PRE VLSCS Herstory
The first meeting took place in 1985 at the home of Sandy McLellan and Jacquie Denage. The vision was to provide assistance to lesbians who might need care in their homes or eventually in some type of care setting. Our original group discussed support in the form of grocery shopping, housekeeping and/or home care either for temporary illness or disability or permanent issues. We also discussed providing an advocacy role for lesbians in mainstream facilities or using mainstream resources including hospital care. Our concerns were to provide care for lesbians in a setting that acknowledged who they were and to ensure that partners could remain together if one or both should need care. We created the Oldtimer's Dance to raise money for this project. …Sandy McLellan
THE OLDTIMER'S DANCES
Margaret Trenchard was the moving force in organizing dances from 1996 to 2003. Held at the Red Cross Hall, Fairfield Community Center and the CNIB, playing music from the '60, '70s, 80's and '90s the dances were well attended and enjoyed, but not a huge fund-raiser.
THE GALA
Began in the lesbian-feminist experience of the Status of Women Action Group. As a response to another complaint about "those lesbians", Jan Brookstone came up with the idea of a dressy, elegant display of lesbian presence, a public statement that SWAG included and supported lesbians in Victoria in 1987.
The Hot Flashes Coffee Collective, ( Debby Yaffe, Wendy Anthony, Elizabeth Duff, Cheryl Lassey, Sharon Wilkinson, Jean Caha, Tamara, Tanya Anderson) & many cohorts organized a formal, elegant evening of entertainment, dining and dancing for lesbians.
The Crystal Gardens was the venue for 13 years until the organizers burned out on the setting up, decorating & clean up. Three different caterers were used over that time & live entertainment included a comedian, musicians like Heather Bishop, Lucie Blue, & a play by Lynn Greenough. In 2000 the Gala was bequeathed to VLSCS along with $2000 seed money to continue and promote the event. The Gala moved to the Ocean Pointe Hotel in 2000 to accommodate a growing crowd & the hope of less effort.
Discussion continues to ebb and flow around issues of cost, accessibility and general political correctness. The evening has not yet been a fund-raiser, in the days of live entertainment it sometimes did not break even. ( not true? – comments gala brought in $1500) In 2006 an anonymous donor provided money to cover the costs for a number of lesbians of lesser means who wished to attend. In 2007 and 2008 VLSCS presented the 20th and 21st Annual Gala in at Harbour Towers Hotel and Suites.
There was no Gala in 2009 but it returned to the Harbour Towers in 2010. Again, there was a haitus until 2013 when the Gala was held at the Edelweiss Cultural Center.
HERSTORY – 1994 Onward
& December 12, 1994 VLSCS was born as a Society with the stated for government purpose, "To enable senior lesbians to live active and meaningful lives through the establishment of housing with various levels of support and community support network".
FIRST A.G.M – JUNE 1, 1995
MEMBERS ATTENDING
Jacquie Denage – Donna Cameron – Sandy Mclellan – Lynn Murray – Stefan Carson – Diane Samolesky – Karen Gallagher – Toni Mercer – Milnor Alexander – Robin Durkin – Braude – Clarice Dillman – Sally Hamill – Kelevelyn Hurley – Sharon Wilkinson – Reva Hutkin – Tanya Anderson – Margaret Trenchard – Jenny Leary – Heather Young – Elaine Lewis – Donna Vogrig – Elaine McCague – Constance Jansma
A major focus in the early years was the purchase or building of a house for 6 – 9 senior or disabled lesbians. Over twenty properties were considered and housing options explored. Lesbians and Aging: Housing and Services for Senior Lesbians, a Needs Assessment Survey was done by Helen Durie in 1996. The survey showed that the mostly 40 year old respondents saw a need in the future for lesbian-only elder housing while elder lesbians preferred independent home support. Home support service was happening on a small scale ad hoc basis. A Housing Information Network, also occurring on an informal basis, was suggested. The report is well-worth reading in its entirety and is appended. Avenues of government funding were explored. The Community Housing Initiatives grant was applied for and —??—.
1998 brought the excitement of an invitation to apply to SOW (Society of Old Women) for a $42, 000 legacy endowment for lesbian housing. The excitement collapsed with the decision a more rural setting than Victoria was wanted.
The dream of a HOME has been let go; burn out on fund-raising, legalities, changes in government support for co-op housing and rising real estate costs all contributed to a drastic change in focus. As well, investigation of local, existing facilities and resources showed what was needed was the acceptance & celebration of lesbian ties/family/culture in the wider community.
2000 – Lois Moon develops and maintains first VLSCS website.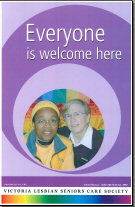 2002/3 – The Community Care Inclusion Project A government funded community care study "to identify and take action on the needs of senior lesbians" led to the: Poster Project : 'Everyone Is Welcome Here' is the theme of the colorful poster developed to advance lesbian visibility.
2004 – Focus Group held at Fairfield Community Center. A new logo was designed by Deb Pinard. Also, www.vlscs.ca was launched. The group now had an interactive content management portal, a home on the web for members and the wider community, developed by Cody Gregory.
2007 -Memberships : 77
20th Annual GALA! Held at Harbour Towers. This one was special.
Health Fund: This fund is an important member benefit. The Health Fund provides reimbursement to VLSCS members who live in Greater Victoria and the lower Gulf Islands, for the cost of products and services and for health related concerns not subsidized by other resources.
A designated amount of proceeds from the GALA and other fund-raising efforts go directly towards our Health Fund.
Wednesday Coffee Group: …. 11am JBNH
Fri. Nites: Events which provide informal, safe meeting space for lesbians in Victoria. Movie Nights, Special Events including Craft Fairs, Open Mic Night, and Murder Mystery.
55+ Group: An ad hoc group of older lesbians which gets together for brunches, walks, pride celebrations and activities including dances, organized by members.
Initiatory year for the Rainbow Ribbon Award: The Rainbow Awards are a way of recognizing those women or organizations who enhance lesbian health and well-being in the Greater Victoria area. Three Awards were presented at the 20th Annual GALA.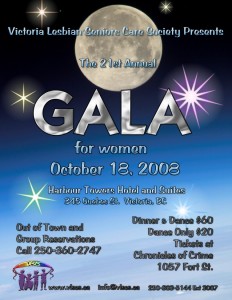 2008 – Memberships: 100
At James Bay New Horizons, Friday Night Events and Wednesday Coffee continue. Members in the News Times Colonist.
June 2008 was our conference … Visioning Women: Living and Aging Well Visit the full poster here.
VLSCS Sponsored the Mid Life Coming Out Group
In September VLSCS amended it's constitution to update the Purpose clause. Login and read the Constitution here.
October 18, 2008 was the 21st Annual Gala held in the new Harbour Towers Venue. 2008 Rainbow Awards: VanCity and NiQ
| | |
| --- | --- |
| Gala 2010 | |
| | |
| --- | --- |
| Gala 2013 | |
 2014
Cody Gregory and Patti Parkyn reconfigured the web system at vlscs.ca to from Raven CMS 2.5, first developed and configured in 2004, to WordPress 3.9 and beyond.  The newly reno'd site was publicly launched for the October AGM. Members received new passwords.
2015