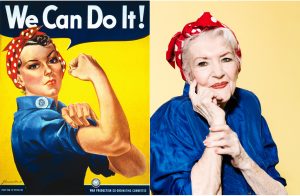 VLSCS Volunteers Are Vital, Fabulous, Riveting Women!
Be an important part of your community –
Volunteer with your Victoria Lesbian Seniors Care Society.
Call for Volunteers & Volunteer Coordinators
Volunteer for a day!  Volunteer all year round!

Picture yourself fitting in!

A non-profit organization like VLSCS depends on volunteers. Over the years, hundreds of amazing women have volunteered to make VLSCS happen! Everything from setting up chairs and tables at social events, to planning and coordinating whole conferences, and everything in between. They have engaged in writing and designing newsletters, blogs, web pages, and brochures; grant writing; hosting fundraisers and coffee talks; choosing movies for movie night; advocating and educating the community on lesbian issues—little and big contributions, one time and long-term, since 1994.
Are you ready to give a little bit of your energy and time? Planning and hosting events, getting involved in communications, raising funds, applying for grants, educating, or advocating—there are many exciting ways members can "plug in" and use their energies. Don't be shy. Drop us a line and get ready to be amazing too!
Tell us what you are interested in, what your availability is, and anything else you might want to say. When we receive your communication, we will set up a time to talk and figure out the best fit for you.
Are you keen to make an even bigger commitment?
Four key women is what it would take to move VLSCS forward in 2018-19. Would you like to be an amazing Volunteer Coordinator? Fundraising Coordinator? Social Coordinator? or Education and Outreach Coordinator? Basic qualifications are willingness to dig in and give it a go and ability to organize yourself and others. Members of the Board and other volunteers would ably support you. Apply today! We can't wait to meet you.
Volunteer Today! volunteer@vlscs.ca.


Our web team needs assistance. Writing, editing, page design, WordPress skills are an asset. But if you are willing to learn, we are willing to teach! Very flexible position that can be crafted to your interest, skills and commitment level. No need to leave home, and you can work at any time of the day or night.