The Rainbow Awards
****************************************************************
VLSCS Is proud to sponsor a
Midlife 35 & over  Coming Out Support Group
The sessions for 2008 are completed.
A new group will start in the new year.
For address or further information, contact Answering machine: (250) 383-5144 Ext. 3087 email: info@vlscs.ca 
VLSCS Is proud to sponsor a
Midlife 35 & over  Coming Out Support Group
Where:      James Bay New Horizon Centre, Victoria
When:       Friday, 5:30 pm until around 7pm.
                   Beginning March 7, 2008, and subsequent Friday  evenings (except holidays).
What:                 
o   Peer led support group
o   An opportunity to meet other lesbians to talk about our journey and transitions as we explore our new identity as lesbians
o   Guest Speakers – we will choose the topics and invite the speakers together
o   Activities designed by the group for the group
o   A chance to meet the larger lesbian community at non-threatening events such as their Friday Night Movies at James Bay
o   A place to learn about and share information about other community lesbian events and activities
Cost:          $2.00 per evening
For address or further information, contact Answering machine: (250) 383-5144 Ext. 3087 email:
info@vlscs.ca
********************************************************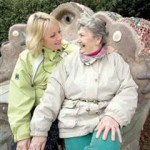 Mature lesbian community finds friends, family at James Bay  centre gatherings
A place for support and acceptance
Katherine Dedyna, Times Colonist
Published: Thursday, January 17, 2008
Whether it's Friday nights for female-themed movies or Wednesday noon hours for coffee, the welcome mat comes out for local lesbians almost 125 times a year at the James Bay New Horizons Centre.
The gatherings are sponsored by the Victoria Lesbian Seniors Care Society, but women who love women don't have to be seniors to join in. Socialization is the main event, but shoring up social supports for the future — when older lesbians are less likely to have them — is increasingly a part of the game plan.
Patti Parkyn, left, and Mare Lane are both members of the Victoria Lesbian Seniors Care Society, which sponsors movie and coffee gatherings at the James Bay New Horizons Centre.
"I know I'm on my own growing old," confides Marilyn Cust, a retired school psychologist.Cust moved to Victoria in 2006 and can't count on her 20-something son, who lives in northern B.C., even though they have a good relationship.
Which is one reason why she's so keen on weekly coffee meetings. "This group was certainly a lifesaver for me — they've already been there in very supportive ways."
In fact, she can't recall ever experiencing the same kind of intimate platonic friendships right off the bat.
"Every week is different," says Mare Lane, 68, a stalwart and board member.
"We laugh; we cry. We get into some really deep topics; we make jokes. There's always someone here who passes the word around about who's in hospital or who had someone die."
Here, the women feel accepted, welcomed and at ease. Picture spending most of your life around people with the opposite sexual orientation and you'll get the idea.
The group has been a conduit to apartments, computer teachers and accountants comfortable with same-sex partnerships.
Lane came out at age 54 ("I fell in love") after having married and had a child and grandchild. Both her daughter and grandson have made it clear she could live with them and their spouses, but she can't imagine being dependent that way. Besides, her daughter lives atop a mountain in California.
When the group began about 20 years ago, it was all about a gala ball and buying property to ensure assisted living for aging lesbians. But since society has become more inclusive, both in attitude and through anti-discrimination legislation, the theme has morphed from private property into "acceptance and celebration" in mainstream facilities, says society chairwoman Patti Parkyn.
Not that the concern has evaporated. "One of my great fears in growing old is that I will be isolated in a heterosexual environment," Lis Wootton says.
Lesbians have already had their fill of marginalization. Those who grew up in the 1940s and 1950s — the majority of the group — had to bury their orientation in many cases.
Even now, Clare Gomez finds the "assumption of heterosexuality" encountered in visiting long-term care homes or even her own battle with MS to be "exhausting." There always seem to be questions about children or husbands.
While more than half the dozen women who dropped in for coffee the other day did have children, lesbians collectively are less likely than the heterosexual norm to have relatives to attend to future needs, from an understanding ear to car rides to hospital visits.
"A lot of the older lesbians are completely isolated (and) a lot of us are not wealthy," Pat Ford reflects. Which is one reason the society raises money to pay for extended health needs for lesbians unable to afford certain services.
People feel isolated as they age, whether they're straight or gay, Parkyn says.
"It's a phenomenon of this particular culture, not other cultures (that) embrace their elderly and bring them in."
At 42, Parkyn is the youngest member on the board and a gerontology nurse well-acquainted with the pressures of aging.
She is especially concerned about what older women who have closeted themselves all their lives must be going through.
"We know there's a lot of older women out there who don't know we exist, who can't get themselves to our events, who have no connection to the gay community." The society just received $15,000 in federal funds to host a workshop on June 29 called Visioning Women: Living and Aging Well.
One of the hopes is to attract women who are considering coming out and looking for support.
"We're even thinking of going into residential care and nursing homes," Parkyn says.
Meanwhile, there is no way that Marilyn Neudorf will miss coffee time with other women who love women, even though she has been out for 35 years.
"I'm closer to my chosen family than my blood relatives," says the former social worker, who nevertheless sports a rainbow scarf knitted by her fundamentalist mother.
For more information, e-mail info@vlscs.ca, call 383-5144 ext. 3087 or visit vlscs.ca
kdedyna@tc.canwest.com?