Friday, February 8 | 7:00 p.m. FREE POSTER
POPCORN + MOVIE : KISS ME
at James Bay New Horizons, 234 Menzies St.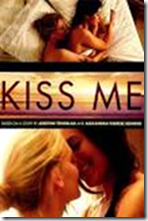 In Kiss Me, the Swedish drama directed by Alexandra-Therese Keining, a young woman engaged to be married finds herself in an affair with her soon-to-be stepmother's lesbian daughter. The film won the Breakthrough Award at the 2011 AFI Festival and was featured on Autostraddle as one of "Eight Pretty Great Lesbian Movies You Haven't Seen Yet."
The night of the big blizzard kept many bundled up at home. Props to the feaarsome four who ventured out on icy roads to join Diane and Susie at the movies.