Monday, February 11th | 11:00 a.m. FREE RETRO PINK POSTER 
COFFEE TALK – ORIGINAL BLEND
James Bay United Church, Upper Reception Room, 511 Michigan St.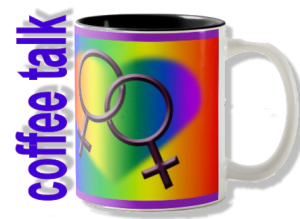 Where the coffee is fresh (we make it ourselves), the tea is properly steeped (Agatha insists), and women and newcomers of all ages are always welcomed (that's the way we jellyroll) at this lesbian-oriented chestnut.
Enjoy a coffee break with friends. Over the years, Coffee Talk has been a safe, welcoming place for lesbians new to Victoria as well as returning ex pats, and for the 'shycomers' newly identifying themselves as lesbian.